Article No: 11300600
French fry cone holder serving set with dip bowl in white ceramic. Can be used with a variety of snacks. Article No: 11299900
A classic housewares item with high quality finish. Keeps butter fresher for longer and at the right consistency for spreading. Article No: 11300400
Multi-purpose food prep system. Comes with a container so that everything that is chopped will be properly placed underneath, with no mess to clean up. The flap makes transferring of food even easier. Article No: G30416
Package contents: Aluminium nutcracker, silver (6081-32); Wafel holland süti mintás dobozban (2318-09); Cotton apron, light blue (7600-18); Spoony 7-piece measuring spoons, Blue (11290301); Glass tea light holder, silver (9055-32). The products in our offer can be combined and packaged as required. Minimum order quantity 5 pcs. Packing: natural cardboard box (article number: CPS40). Contact your customer manager for more packaging options.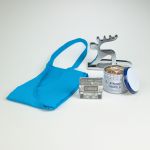 The indicated prices and product information are informative and we don't take any responsibility. Prices do not include VAT.